----------------------------------**FAVORITE COOKIE RECIPE(s)**---------------------------------
Peppermint Bark Chocolate Chip Cookies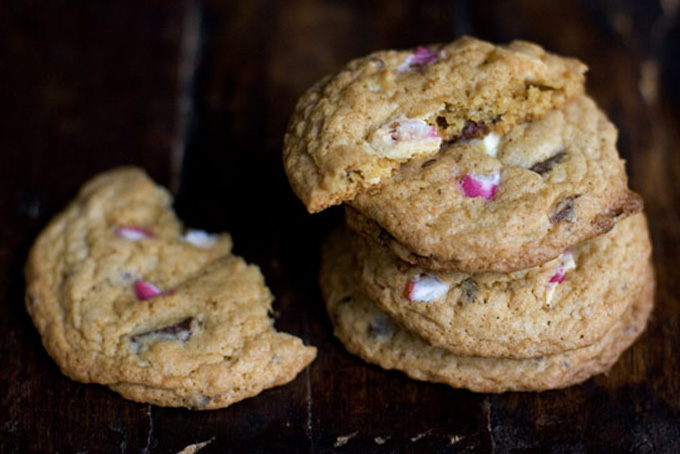 This recipe was given to me by my coworker, Fionna, for our holiday recipe exchange along with a large tin of peppermint bark. Peppermint bark in a cookie?!? I immediately fell in love and couldn't wait to try it out. I even contained myself from eating all the bark before it made its way into these heaps of pure deliciousness. Kuddos to me! The recipe comes from
http://www.101cookbooks.com/
where Heidi focuses primarily on natural, whole foods and ingredients - vegetarian recipes that are good for you and for the planet. Check it out!!
Nearly a pound of peppermint bark goes into these cookies, not quite, but close. This is a large batch of cookies, I typically bake off half of them, form the rest of the dough into cookie-sized balls, and place them in freezer bag for later use.
3 1/2 cups whole wheat pastry flour (or unbleached all-purpose flour)

1 teaspoon baking soda

1 teaspoon aluminum-free baking powder

3/4 teaspoon fine-grain sea salt

1 cup unsalted butter, at room temperature

2 cups sugar

3 large eggs

1 tablespoon vanilla extract

2 cups peppermint bark, roughly chopped
Preheat the oven to 375F degrees. Position the racks in the middle of the oven, and line baking sheets with parchment paper or Silpats.
Whisk together the flour, baking soda, baking powder, and salt in a bowl. Set aside.
In a large bowl or stand mixer, beat the butter until light and fluffy, then beat in the sugar until it is the consistency of a thick frosting. beat in the eggs one at a time, incorporating each fully before adding the next and scraping down the sides of the bowl a few times. Stir in the vanilla until evenly incorporated. Add the dry ingredients in 3 increments, stirring between each addition. At this point you should have a moist uniform dough. Stir in the peppermint bark by hand, mixing only until evenly distributed. Reserve a bit of the bark to sprinkle on top of the cookies after you have dropped them onto the baking sheets.
Drop a heaping tablespoon of dough for each cookie onto the prepared baking sheets 2 inches apart and bake for about 10 - 14 minutes, until golden on bottom and top. Cool on wire racks.
Makes 2 to 3 dozen medium-large cookies.
Who doesn't love cookies?? I couldn't give you just one cookie recipe so I'm also including my mom's sugar cookies and the molasses cookie recipe from my aunt, Rhonda. 
Mom's Sugar Cookies
. Warning: do not use this recipe if you like your sugar cookies moist and chewy. These are delightfully light and crisp and more importantly remind me of the holidays with my Mama :)
1/2 c powdered sugar
1/2 c granulated sugar
1/2 c margarine or 1 stick of butter
1 egg
1/2 c vegetable oil (I use canola)
1/2 tsp vanilla
2 c + 2 Tbsp flour
1/2 tsp salt
1/2 tsp baking soda
1/2 tsp cream of tarter
Preheat oven to 375. Mix sugars and margarine, cream well. Mix in the egg. Add oil, vanilla, salt, flour, baking soda, and cream of tarter. Mold into small walnut sized balls, place on greased sheet. Flatten with a glass dipped in sugar (you can use red and green to be festive). Bake for 8-10 min. 
Aunt Rhonda's Molasses Cookies
I love molasses cookies anytime of the year but they are that much sweeter during the holiday season. These are moist and chewy with mild molasses flavors and a hint of spice. The perfect cookie to enjoy with a cup of tea or a latte. Just heavenly....I dare you to try and eat only one.
3/4 c melted margarine or butter (I use butter)
1 c white sugar
1 egg
1/4 c molasses
2 c all purpose flour
2 tsp baking soda
1/2 tsp salt
1 tsp ground cinnamon
1/2 tsp ground cloves
1/2 ground ginger
1/2 c white sugar (saved for later)

In a medium bowl, mix together melted margarine, 1 cup sugar, and egg until smooth. Stir in molasses. Combine the flour, baking soda, salt, and spices. Blend flour mixture into the molasses mixture. Cover and chill the dough for 1 hour.

Preheat the oven to 375 degrees. Roll the dough into walnut sized balls, and roll them in the 1/2 cup of sugar that was saved for later. Place the cookies about 2 inches apart onto an ungreased baking sheet.

Bake for 7 to 10 minutes until the tops of the cookies are cracked. (I liked them closer to 7 minutes as they were more moist and chewy) Cool on wire racks.
ENJOY!!
----------------------------------**FAVORITE PIE CRUST**----------------------------------
Martha Stewart's Pate Brisee
Makes 1 double-crust or 2 single-crust 9- to 10-inch pies.
2 1/2 cups all-purpose flour
1 teaspoon salt
1 teaspoon sugar
1 cup (2 sticks) unsalted butter, chilled and cut into small pieces
1/4 to 1/2 cup ice water
In the bowl of a food processor, combine flour, salt, and sugar. Add butter, and process until the mixture resembles coarse meal, 8 to 10 seconds.
With machine running, add ice water in a slow, steady stream through feed tube. Pulse until dough holds together without being wet or sticky; be careful not to process more than 30 seconds. To test, squeeze a small amount together: If it is crumbly, add more ice water, 1 tablespoon at a time.
Divide dough into two equal balls. Flatten each ball into a disc and wrap in plastic. Transfer to the refrigerator and chill at least 1 hour. Dough may be stored, frozen, up to 1 month.
----------------------------------**FAVORITE HOLIDAY PIE**----------------------------------
Mom's Apple Cream Pie
This was the easiest one to decide. My mom's apple cream pie has been my favorite for as long as she's been making it. I believe she originally got the recipe from my Aunt Sheila. The holidays just aren't complete in my family without this pie and its perfectly creamy filling and cinnamon streusel topping. I make this every holiday I can't make it home *sniffle, sniffle*
2 c finely chopped granny smith apples (about the size of a thumbnail)
3/4 c sugar
2 Tbsp flour
1/8 tsp salt
1/2 tsp vanilla
1 c sour cream
1 egg
Chop peeled and cored apples,set aside. Mix sugar and flour. Add sour cream,egg,vanilla, and salt. Beat until smooth. Add apples and pour mixture into pastry lined pie pan (if you really want to save time, you can use frozen store bought pie crusts). Bake 15 minutes in 450 degree oven, then reduce heat to 325 degrees and continue to bake until pie is "somewhat" firm (like pudding). Remove from oven and crumble this mixture over top of pie:
1/3 c sugar
1 tsp cinnamon
1/3 c flour
1/4 c Butter or Margarine (softened, but not melted)
(Some people add pecans, walnuts, or oats to the streusel - I haven't tried this yet)
Return to oven and bake another 10 minutes or until topping on pie starts to crisp and pie is firm. (i usually have to bake it longer than another 10 minutes). Some people like it hot out of the oven, i like it best after it has been refrigerated. Store in the fridge.
----------------------------------**FAVORITE BROWNIE**----------------------------------
While looking for a recipe for a coworker with multiple allergies, I decided to try this recipe from the 'Cooking for Isaiah' cookbook. Who doesn't like brownies?!? I was a little skeptical since 1) I had never baked with gluten free flour and 2) I had never made homemade brownies before (I know, I know). The result: SUPER. FUDGY. BROWNIES. The past is the past, and I will no longer reach for that boxed mix in the supermarket aisle. Allergies are becoming more prevalent and nobody likes to be left out (even though they were so good I wanted to keep them all to myself). These brownies will work for those with a gluten and/or dairy intolerance.
1 c semisweet chocolate chips, melted
1/4 c unsweetened cocoa powder
1/3 c vegetable oil
3 Tbsp water
1 c sugar
2 large eggs, at room temperature
1/2 c gluten free flour (some varieties require xanthum gum to be added) or you can substitute all purpose flour
1/4 tsp salt
Preheat the oven to 350 F. Grease an 8-inch square baking pan and line with a 14-inch-long piece of parchment paper, letting the ends hang over two sides of the pan (I didn't have any and they came out fine). In a medium bowl, whisk together the melted chocolate, cocoa powder, oil and water until smooth.
In a large bowl, whisk together the sugar and eggs. Whisk in the chocolate mixture. Fold in the flour and salt until just combined; transfer the better into the prepared pan and spread to the edges. Bake until set and the brownie edges pull away slightly from the sides of the pan, 25 to 28 minutes (mine took a little longer). Let cool in the pan set on a wire rack.
----------------------------------**FAVORITE SALAD DRESSING**---------------------------------
Cilantro
Ginger Dressing
You either like cilantro or you don't and I am one of those girls that happen to LOVE it! You can adjust the amount of cilantro in this recipe to taste, but the given amount is not overpowering. After a nice dinner at our friends' house I just HAD to have this recipe. It's flavorful, creamy and just a little spicy. Perfect topper for a bed of greens and some bold chopped veggies, try red and orange bell peppers.
1 tsp fresh ginger (I use from the glass jar)
1 tsp sambal olek (I also add a few flakes of red chili peppers if I want to add more heat)
1/4 c rough chopped cilantro (to taste)
Combine ingredients and mix well. Stays in fridge up to 2 weeks. Makes 1.5-2 cups
----------------------------------------**FAVORITE SOUP RECIPE**-------------------------------------
African Peanut Stew: Serves 8
This recipe came from my dear friend, Carter. I couldn't resist sneaking a taste whenever she made it. It takes some chopping but is very easy to put together. Even my skeptical hubby likes this recipe. It is bursting with flavor and good-for-you veggies!
1 Tbsp olive oil
1 red onion finely chopped
1 green bell pepper, finely chopped (I left this out)
1/2 c. carrots, chopped
1/2 c. celery, chopped
3 garlic cloves minced
2 Tbsp. peeled ginger, minced
1 Tbsp curry powder
1 can diced tomatoes, drained
1 bay leaf (take out when soup is finished cooking)
4 c veggie broth
1 yam cut into small cubes (the darker orange sweet potatoes)
1 1/2 c shelled edamame
1/2 c crunchy peanut butter
1/4 c fresh cilantro, chopped
1 bag baby spinach leaves ( I used fresh but you could use frozen)
1/2 tsp salt
(You can use some other African spices such as: turmeric, cloves and cardamom if you're feeling creative)
Heat olive oil in a 4-qt saucepan over medium heat. Add onion, pepper, carrot, and celery. Saute until soft (about 5 min).
Add garlic, ginger, and curry powder and saute until fragrant (about 1 in). Do not brown garlic.
Add tomatoes and bay leaf. Cook, uncovered until tomatoes are slightly reduced (about 3 min). You can also add other spices now if you want
Add broth and sweet potato and bring to a boil. Reduce heat to low and simmer about 8 min. Stir in edamame and peanut butter until combined. Cook until thoroughly heated (about 2 min). You can stir in cilantro now (I used as garnish instead) and spinach until spinach wilts. Season with salt & pepper
----------------------------------**FAVORITE STORE BOUGHT TEA**-------------------------------
This is a full bodied tea with sweet cinnamon notes in an earthy rooibos (roy-bos) base. I buy the caffeine free version so that I can enjoy it anytime of the day. The cinnamon flavors make it the perfect companion on a crisp fall day or snowy winter eve. Try it out, you won't be disappointed!
------------------------------------**FAVORITE MICROBREWS**-------------------------------------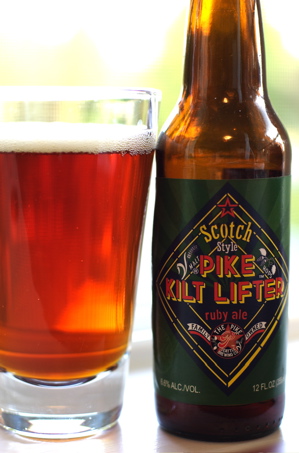 Pike Brewing - Kilt Lifter
A local Seattle brewery offers this Scotch style ruby ale. It offers layers of rich malt with a subtle smokiness.
(6.5% alcohol)
After a little research, I've decided I also need to sample the XXXXX Stout, Tandem Double Ale, Entire Wood Aged Stout. Can't wait!
Rogue - Santa's Private Reserve
Rogue is an Oregon based brewery that I have yet to visit. Rogue's annual holiday offering, Santa's Private Reserve, is a variation of the classic Saint Rogue Red, but with double the hops--including Chinook, and Centennial, and a mystery hop called Rudolph by head brewer John "more hops" Maier! Red ale that is reddish, copper in color with a roasty malt flavor and a hoppy, sprucey finish.
I also really enjoy their 'Hazlenut Brown Nectar' and 'Double Chocolate Stout' (which is flavored with Dutch bittersweet chocolate) during the crisp fall and winter seasons. It also looks like I might have to try the 'Double Mocha Porter' which is brown black in color with a rocky reddish tan head. MMMmm, with dark chocolate, roasted nut, creamy and melon aromas followed by dark nut toast notes and a long, tart, kumquat, cocoa and pepper fade with vibrant astringency. 
21st Amendment Brewery - Back In Black
A black IPA?!? It's brewed like an American IPA but with the addition of rich, dark malts, this beer has all the flavor and hop character you expect with a smooth, mellow finish.
(6.8% alcohol)
I've decided I really like this San Francisco brewery and am excited for their new release in Feb 2011 called Monk's Blood. 1st Amendment founders Nico Freccia and Shaun O'Sullivan traveled to Belgium to develop the recipe for this special beer, visiting small, traditional breweries in the hop fields of west Flanders, not far from the famous Trappist abbey of Westvletren. Monk's Blood is designed to pair beautifully with rich winter stews, creamy cheeses, unctuous desserts or just by itself, in a Belgian tulip glass, with a good book by the fire. It's deep mahogany in color and has ingredients like dark Belgian Candi sugar, cinnamon, vanilla bean, dried black mission figs and is aged on oak.
(8.3% alcohol)


-----*------*-------*------*------*---------*---*------*------*

OK, that's it for now. I will be sure to share a few of my new favorites along the way. I wish everyone a happy and healthy 2011.

Positive vibes...... <3